Post by Griffy on Oct 5, 2014 22:16:06 GMT -5
Astella Fantomfeing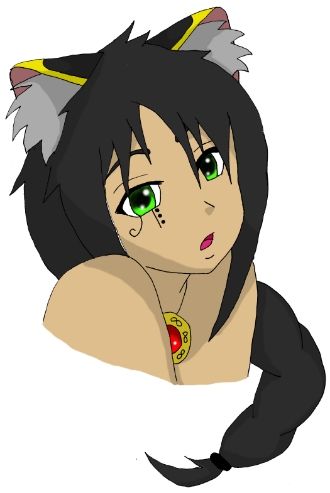 Other Pictures

Original outfit.
Maza outfit


Age
21
Sexual Orientation
Straight
Height
5'7" ( Human ) 7'3" ( Jackal )
Race
Jackal

Bio
-
Coming soon...
Family
Mother
, Lady Fantomfeing , died when Astella was 8. the woman was kind light-hearted and loved by all within the city of Maza. She worked as a healer within the temple, tending to any and all kinds of travelers and townsfolk. Upon Astella's birth, her mother fell to a mysterious illness; the disease progressing over the 8 years she was alive – the life slowly draining away from her mother's frame. When her mother died, her brother, Troy, became distant and cold- their father disappearing soon after the death of his wife.
Father
, Lord Fantomfeing, disappeared when Astella was 8. The man renowned for his knowledge in magic and his study of ancient arts and cultures. Many traveling far and wide to learn from the connoisseur of knowledge, the man having traveled all across the land back in his youth- having assisted his wife in the making of Maza City. Both Lord and Lady Fantomfeing were known as heroes of Maza, the two having fended the region from demons years before the cities birth, helping win the rebellion of the land and freeing its people from the threat of war. Upon Lady Fantomfeing's death, Lord Fantomfeing disappeared from the temple and from Maza all together, rumor claiming that the male had died alongside his wife when the temple was invaded by assassins. No one knowing for sure; no one but Troy.
Brother
, Troy Fantomfeing, Astella's older brother and head of the household. Troy's steely eyes and bitter personality make him a rather intimidating character. Though he is kind to those he trusts and helps he is distastefully cruel towards Astella. The male is trained in the art of the sword and hand to hand combat; training Astella in the same arts of self defense and assassin-like assaults.
Personality
As a child, Astella was timid and shy. often keeping away from others due to the cruel nature of the mortals opinions towards her. the child often keeping to her mothers side; hiding within her dress or skirt to keep out of sight. Aside form her shyness, Astella was very alert and curious. often finding herself in negative situations after following her curious heart. the female enjoys making others happy; watching children playing from afar to keep from being bullied. As a child, Astella suffered powerful and vivid nightmarish visions of past events and future predictions. The demon blood within her torturing the child's sanity. The child often slip away to be alone and cry out of fear as flashbacks would consume her without notice. Aside from her brother, Astella had no one to play or be friends with. the other children of Maza taking it upon themselves to act out their parents racist views. Astella often suffering ruthless beatings at the experience for the children's entertainment. the children tending to hunt the female down whenever she was out and about to make a game of assaulting the 'demon' in order to prove their bravery and strength. when Astella was 5, the child began to lose herself to her jackal self whenever she grew too upset or scared. reverting to her jackal form in front of other children in tempts to escape them. when they'd chase and corner her, Astella's jackal self began to fight back. The child beginning her long reign of killings.
When her jackal claimed her mother's life, Astella's father bound her demon blood from her mortal self; separating fragments of the infinity stone from her soul. he bound one to Mamoru while binding the other to his wounded son, Troy in order to save his life and bind him to Astella's side. With this, her father also erased her memory. Astella's mind shattering upon realizing what she had done.
As an adult, Astella is timid kind and easily hurt. often being sweet and cautious around strangers. she enjoys helping others, often 'mothering' those she likes. her curious nature continues through adulthood, following her curious heart wherever it takes her. she uses her knowledge and skill in herbalism to help anyone who needs it. Astella having issues trusting others, often keeping her distance in order to protect herself. When she's comfortable with someone, Astella can become very affectionate. The female enjoying giving hugs to anyone she things is in need of comfort. Wanting to ease any pain or sorrow that afflicts those she holds dear Due to the infinity stone being a part of her soul her natural fragrance reflects that of an ancient, mythical flower- its scent calming those around her; creating a pleasant and soothing atmosphere.
Likes
-Humanoid-
Hugs and cuddling
Flowers
Meat
Sweet food
Shiny objects
Hunting
Studying herbs and healing magic
Taking care of others
Dancing - festive music
Sparring
Having her tail pet
Having her ears rubbed
Feeling needed
Domination -
-Jackal-
Running
Howling
Cuddling
Hunting
Flying
Nighttime
The moons
Getting her crown and ears rubbed
Having the base of her wings massaged
Males who prove more dominate then her
Dislikes
-Humanoid-
Spicy food
Violence - being forced to fight
Losing people close to her
Feeling alone
Fear of hurting others
Failure
-Jackal-
Chains - restraints - cadges
Aggression
People tempting to touch or get close if she disproves
Losing a fight
Having her tail grabbed or pulled
More info coming soon